Extreme Femdom – Now Available in Paperback (Chantal's Law)
She is the judge, jury and executioner…
Get Your Extreme Femdom On Amazon Today!
Chantal's Law is a smashing success for extreme Femdom on Amazon. It's doing really well in it's first month of publication. The author, Cordelia Livingston and publisher, Free In Thought Publishing couldn't be any more proud. The book is now available paperback as well!
If you haven't read Chantal's Law: To Serve And Obey, now is a great opportunity to get started. It's available exclusively on Amazon through Kindle e-book and Kindle Unlimited as well as paperback. Follow the links below to start reading now!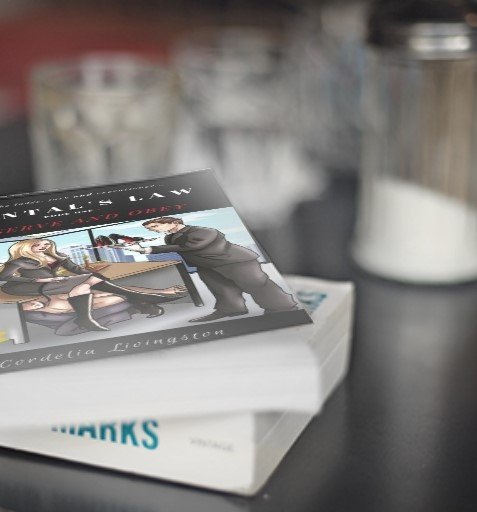 Meet successful attorney at law, Chantal Gibson. She's not your average young, up and coming, superstar attorney. Chantal believes in Female Supremacy, and she has her sights on nothing short of global female domination. This is a story of female empowerment through dominance and submission that you don't want to miss.

SEE ON AMAZON
---
Imagine a world where the principles extreme Femdom and Female Supremacy governed as the law of the land. What would daily life look like? How would women exert their authority and how would they choose to subjugate men?
Before this Utopian vision of an alternate existence can manifest, it needs a champion to bravely lead the charge. In the Chantal's Law series of femdom novels, our heroine is the exceptionally gorgeous and savvy young defense attorney, Chantal Gibson. A practicing and staunch advocate for female supremacy, she finds herself in the unique position of having the ability to usher in the very change in society that will one day bring rise to absolute female domination.
This erotic BDSM series explores many topics of Femdom including, foot fetish, cuckold, humiliation, sissy, forced-bi and forced-gay, human urinal, polyamory, female led relationships, male slavery, corporal punishment, and Goddess worship.
The journey of Goddess Chantal Gibson and her emasculated husband, George, can become your journey. Join her and her allies in female supremacy and female domination as they blaze a trail into a Utopian society where Women rule and Femdom dominates every single page!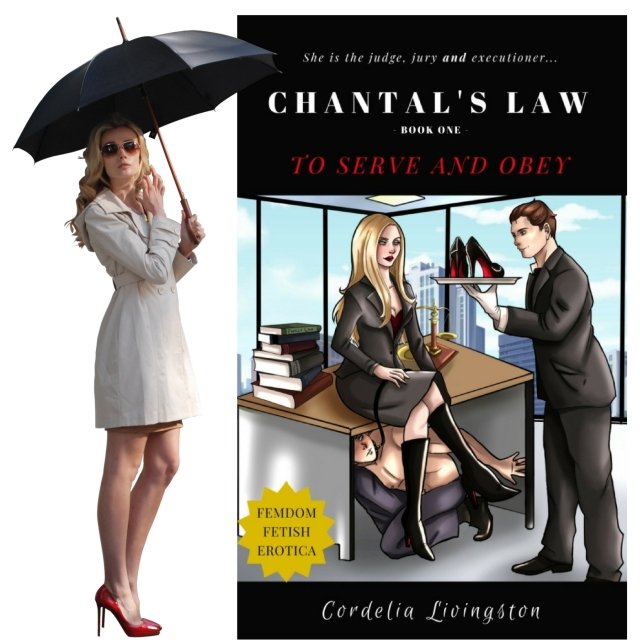 BOOK ONE: TO SERVE AND OBEY
In Book One: To Serve And Obey, Chantal's rise to power is chronicled. Our story begins with Chantal extremely irate at her incompetent cuckold husband's shoe cleaning skills. After promising to administer severe corporal punishment later that evening, she sets off to carry out her plans to enslave her boss and take over managing control of her law firm.
Along the way, we learn about Chantal's love for shoes and her disdain for the male species. Her abuse of her sissy husband is relentless and epitomized the nature of extreme Femdom found throughout the story. Not only is he forced to stay home and do all of the chores, but he's also routinely cuckolded, humiliated and made to service other men. The suffering and abuse are worth it as her slave husband is allowed to express his profound worship of her and indulge in his foot fetish.
Follow the success of Goddess Chantal Gibson as she implements her Utopian vision for society. It's one that holds the philosophy of absolute Female Supremacy at the core of its beliefs.
ABOUT THE AUTHOR
Cordelia Livingston loves to portray strong female characters that are in control and command your attention. Her goal is to deliver the perfect blend of BDSM fetish extreme Femdom erotica, storytelling and character development.
Visit her Author Page to follow her work and blog posts. You can also connect with Cordelia at freeinthought.com or by e-mail at CordeliaLivingston@protonmail.com



Visit Cordelia Livingston at www.freeinthought.com